Jurassic World: Dominion Dominates Fandom Wikis - The Loop
Play Sound
Written by: Jessica Renee
Edited by: Avalon Cupid and Niki Poplin
Originally written: March 2020; Edited in May/June 2022

The Golden Girls was a highly-acclaimed and rated, well-received, popular American situation-comedy/sit-com television series that aired on NBC originally from September 14, 1985, to May 9, 1992. The series ran for a total of seven seasons and a total of 180 full-length episodes.
The television series stars well-known, veteran stage and television actresses, Beatrice (Bea) Arthur, Betty White, Rue McClanahan, and Estelle Getty. The premise of the show centers on four, older women who share a Miami single home, going through the many motions of aging and life.
The series was created by producers, Susan Harris and Paul Junger Witt, in the association of the Witt/Thomas/Harris Productions with Touchstone Television and distributed by Disney-ABC Domestic Television in syndication.
The Golden Girls won several awards, including the Primetime Emmy Award for Outstanding Comedy Series twice. It also won three Golden Globes for outstanding TV series comedy/musical. All four stars each received an Emmy Award throughout the series' run and each had multiple nominations. It also ranked among the top ten highest-rated programs for six out of its seven seasons.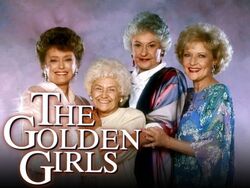 Series overview
[
]
The series revolves around four older, single women (three widows and one divorcée) sharing a house in Miami, Florida. The owner of the house is a widow named Blanche Devereaux (Rue McClanahan), who was joined by fellow widow Rose Nylund (Betty White) and divorcée Dorothy Zbornak (Bea Arthur) after they both responded to a room-for-rent ad on the bulletin board of a local grocery store. In the pilot episode, the three were joined by Dorothy's 80-year-old widowed mother, Sophia Petrillo (Estelle Getty), after the retirement home where she lived burned down.[1][2] Initially, the women had a gay cook named Coco (Charles Levin) who lived with them, but the character was never seen again after the pilot episode.[3]
Finale
[
]
After six consecutive seasons in the top 10, and the seventh season at #30, The Golden Girls came to an end when Bea Arthur chose to leave the series. In the hour-long series finale, which aired in May 1992, Dorothy meets and marries Blanche's Uncle Lucas (Leslie Nielsen), and moves to Hollingsworth Manor in Atlanta, Georgia. Presumably, Sophia was to join her, but, in the end, Sophia stays behind with the other girls in Miami, leading into the spin-off series, The Golden Palace.
Dorothy, after making an emotional speech and telling the girls that "I love you, always", comes rushing back in through different entrances of the house for their final goodbyes, until making her final exit, saying "You'll always be my sisters. Always", leaving the other three ladies. The series finale was watched by 27.2 million viewers. As of 2018, the finale ranked at #17 of most-watched finales.[4] Watch Golden Girls Now on Hulu and Disney + internationally
A Brief Synopsis on the 4 Main Characters
[
]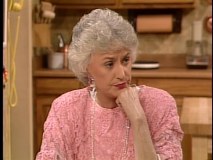 Dorothy Zbornak
---
Dorothea "Dorothy" Zbornak-Hollingsworth (née/maiden name, Petrillo) was born and raised in Brooklyn, New York by her maternal mother, Sophia Petrillo, and her father, Salvadore "Sal" Petrillo.

Dorothy is nicknamed as "Pussycat" by her mother because Sophia loved cats and she also loved her daughter.

Dorothy rarely saw her sister, Gloria, the youngest of the Petrillos, who married into money. Gloria appeared in just two episodes on the television series.

A few weeks after Dorothy's high school prom, she was asked out by a fellow classmate, Stanley "Stan" Zbornak. It was only a matter of a few alcohol drinks that Stan got Dorothy pregnant and was forced into marriage to Stan by Dorothy's father in order to legitimize the birth of the baby. Thus, Stan and Dorothy married soon after high school graduation for a total of 38 shaky years. Although Stan cheated on Dorothy during the course of their marriage quite a number of unfaithful times, Dorothy finally leaves and divorces Stan after catching Stan cheating with a much younger woman - a flight attendant on one of Stan's business trips named Chrissy.

Dorothy and Stan both conceived two children, Kate and Michael.

Soon after marriage, Dorothy and Stan agree to relocate and begin their early married life in Miami for a number of years - raising the family.

Dorothy continued working her primary job as a substitute high school teacher, particularly in the subjects of history and English. At the time of Dorothy's and Stan's divorce settlement, Stan still makes his sporadic appearances throughout the TV series, typically running into Dorothy at her other housemates, Blanche Devereaux and Rose Nylund. Oftentimes, Stan runs to Dorothy for his personal issues or if something went wrong in his life, always starting his greetings with, "Hi, it's me, Stan."
Rose Nylund
---
Rose Nylund (née Lindstrom) was from the small farming town of St. Olaf, Minnesota, a community of Scandinavian-Americans. Rose loved telling profoundly strange stories of life growing up there. Typical stories focused on people with names such as Hans, Lars, or Sven and various experiences with herring. Though Rose was decidedly the mildest-mannered of all four roommates, she had an incredibly competitive streak, which reared its head during several situations, most notably the bowling championship in the episode entitled The Competition and while coaching a boys' football team with Dorothy.
Rose was known for being quite naive and taking the meaning of everything literally. For example, Dorothy once mentioned that she once cut off Stan's sex, prompting Rose to ask, "You mean it grows back?" She was considered rather stupid by the other characters but occasionally offered superior insight and knowledge. She once helped Dorothy install a new toilet and exhibited thorough knowledge of plumbing parts, and claimed that the Journal of Abnormal Psychology was published in St. Olaf and that she'd read every issue.
Rose's husband Charlie had died before the series. He and Rose had several children, most of whom appeared onscreen during the series, as did other members of Rose' large family. Rose held various jobs throughout the series.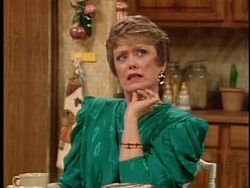 Blanche Devereaux
---
Blanche Elizabeth Marie Devereaux (née Hollingsworth), daughter of Elizabeth Ann "Big Mommy" Bennett Roquet Hollingsworth and Curtis "Big Daddy" Hollingsworth, was a Southern belle who grew up on a plantation named Twin Oaks outside of Atlanta, Georgia, and raised a Baptist. Blanche was always "the apple of her father's eye". Blanche had a love-hate relationship with her sisters Charmaine and Virginia. She also faced difficulty coming to terms with the homosexuality of her brother Clay and the mental illness of her brother Tad.
The house that the ladies shared, at 6151 Richmond St., initially belonged to Blanche, who had lived there for many years with her late husband George Devereaux. Later in the series, however, she sold equal shares of the house to Dorothy, Rose, and Sophia. Blanche and George possibly had 6 children: two daughters Rebecca and Janet (both of whom made appearances on the show) and four sons (including Matthew (who appeared in the spin-off series The Golden Palace).
Sophia Petrillo
---
Sophia Petrillo (née Grisanti) was born in Sicily and moved to New York after she left Guido Spirelli at the altar (it was to be an arranged marriage). As a teenager, she was briefly engaged to a young man from her village, Augustine Bagatelli. In the fifth-season episode The Mangiacavallo Curse Makes a Lousy Wedding Present, it was revealed that she was also engaged to another young man, Giuseppe Mangiacavallo, when she was 14. He left her at the altar. She married Salvadore "Sal" Petrillo, and they had three children: Dorothy, Phil and Gloria.
Sophia was put away in the Shady Pines Retirement Home by Dorothy prior to the start of the series. Sophia had suffered a massive stroke, which, on more than one occasion, was said to have destroyed the part of her brain that acted as a censor; indeed, much of Sophia's popularity comes from her humorous, and often shocking, frankness and general lack of inhibition. Sophia occasionally pretends to be slightly senile. In the pilot episode, she came to live with the girls after Shady Pines burned down. In a later episode, Sophia tried to run away to Sicily after becoming the prime suspect in starting the fire after making s'mores with a roommate on an illegal hotplate. Sophia never had good things to say about her retirement home, and she alluded to poor treatment by the staff many times throughout the series' run (although, in an episode meant to raise awareness about poor-quality nursing homes, she did admit that the treatment at Shady Pines was satisfactory). There were constant hints in the series that she and her family back in Sicily had some mafia connections; she once stated that she had lived through "two world wars, 15 vendettas, 4 operations and two Darrens on Bewitched." In one episode, she accidentally let it slip that she knew what happened to Jimmy Hoffa.
Recurring characters
[
]
Herbert Edelman as Stanley Zbornak, Dorothy's cheating, freeloading ex-husband who first appears in the second episode of Season 1, and appears in 26 episodes total throughout the series.
Harold Gould as Miles Webber (Nicholas Carbone), Rose's professor boyfriend who appeared in 14 episodes, starting in Season 5. Gould also guest starred in the show's third episode in its first season as Arnie Peterson, Rose's first serious boyfriend after her husband Charlie's death. He also appeared in the third episode of The Golden Palace, after Rose discovered he was cheating on her.
Debra Engle as Blanche's daughter Rebecca Devereaux, who has a baby girl by

artificial insemination

and appeared in three episodes, seasons 5–7. Shawn Schepps played Rebecca in season 3, when she returns from a modeling career in Paris, overweight and engaged to a

verbally abusive

man.
Monte Markham as Blanche's brother Clayton Hollingsworth in two episodes, first when he comes out and later to introduce his boyfriend.
Sheree North as Virginia Hollingsworth Wylde, Blanche's sister who appeared in two episodes, first in season one then again in season five.
Sid Melton as Salvadore "Sal" Petrillo, Sophia's late husband, usually seen in dreams or flashback sequences who appeared in eight episodes. He also appeared as Don the Fool, a waiter at a medieval restaurant in season six.
Nancy Walker as Angela Grisanti-Vecchio, Dorothy's aunt and Sophia's sister, with whom Sophia constantly fought, appeared in two episodes in 1987.
Brenda Vaccaro played Angela Petrillo, the widow of Dorothy's brother, Phil, for one episode in 1990.
Bill Dana as Sophia's brother and Dorothy's uncle Angelo Grisanti who appeared in seven episodes from seasons 3 to 7. Dana also appeared as Sophia's father in a season 4 episode.
Doris Belack as Gloria Mayston, Dorothy's younger sister who in season 1, is married to a wealthy man in California and wants Sophia to move in with her. She later lost all of her money and returns in season 7 for a 2-part episode played by Dena Dietrich and upsets Dorothy as she becomes romantically involved with Dorothy's ex-husband, Stan.
Scott Jacoby as Dorothy's aimless musician son Michael Zbornak who appeared in three episodes.
Lynnie Greene, credited as Lynn Greene; she portrayed a younger Dorothy in flashbacks in four episodes.

Steve Landesberg

played Stan's psychiatrist,

Dr. Richard Halperin

, appearing in three episodes in season 7.
The show also drew many well-known or then up-and-coming actors and actresses for single guest starring roles, such as Don Ameche, Barbara Babcock, Christopher Daniel Barnes, Ken Berry, Lloyd Bochner, Sonny Bono, Eddie Bracken, Joseph Campanella, Virginia Capers, Rosalind Cash, George Clooney, Polly Holliday, Robert Culp, Ruby Dee, the Del Rubio triplets, Jeane Dixon, Anne Francis, Johnny Gilbert, Jack Gilford, Alice Ghostley, Beth Grant, Peter Graves, Merv Griffin, George Grizzard, Jane Kapowski, Rachel Bloom, Terry McGurrin (Scaredy Squirrel), Freddie Jackson, Tony Jay, Billy Jayne, Gordon Jump, Paula Kelly, Alan King, David Leisure, Jenny Lewis, Hal Linden, Mario Lopez, Ralph Manza, Kevin McCarthy, Edie McClurg, Marian Mercer, Martin Mull, Leslie Nielsen, Jeanette Nolan, Jerry Orbach, Leland Orser, Milo O'Shea, Robert Picardo, Tony Plana, Peggy Pope, Joe Regalbuto, Burt Reynolds, Debbie Reynolds, Donnelly Rhodes, Richard Riehle, Alex Rocco, Cesar Romero, Mickey Rooney, Harry Shearer, Reid Shelton, McLean Stevenson, Inga Swenson, Jeffrey Tambor, Meshach Taylor, Jay Thomas, Alex Trebek, Dick Van Dyke, Tom Villard, Lyle Waggoner, David Wayne, and Fred Willard. Director Quentin Tarantino appeared as an Elvis impersonator in one episode.
Trivia
[
]
Aired in a programming block with sister shows Empty Nest (1988-1992) and Nurses (1991-1992). All three shows were created by Susan Harris and took place in Miami, Florida. On several occasions the shows featured interwoven story lines (such as a hurricane), in which characters from all three shows would interact. In 1992 the spin-off The Golden Palace served as a sequel to The Golden Girls.
References
[
]