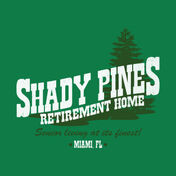 Shady Pines was a retirement home in Miami, Florida.
After Sophia Petrillo's stroke that very badly damaged the part of her brain that censored her thoughts, her daughter, Dorothy Zbornak placed her in Shady Pines. Sophia detested it, claiming that they were cruel there, but it is eventually revealed that the facility was a satisfactory place that Sophia just didn't care for.
In September 1985, Shady Pines burned down after a heater fire, causing Sophia to move in with Dorothy, Blanche Devereaux, and Rose Nylund. After a short time, Shady Pines was reconstructed, with Sophia not returning, however she did keep in contact with her friends and entered the talent show in one episode. Dorothy used the catchphrase "Shady Pines, Ma" to keep Sophia in order.
It was later claimed by another former resident on her deathbed that Sophia had started the fire, and she was arrested for arson. Sophia was later released when Rose found evidence that faulty wiring had caused the fire, and the owners of the facility had bribed the fire inspector to falsify his report.
Shady Pines never physically appears in The Golden Girls, however it's Lobby appears in The Golden Palace episode "Seems Like Old Times (Part 2)". The design is glamorous very different to Sophia's description, but knowing that there is new people owning it this could be a rebuild.
Sophia claims include that the home forced its residences to pretend to be having fun for photos, the people in charge would give them the wrong medication amount and they were given Cat Food as food (Sophia was able to identify the make without seeing the label).
The only staff member that ever appeared was Nurse DeFarge, in Beauty and the Beast, she cared for Sophia when she was in a wheelchair and driving Dorothy crazy. Sophia upon seeing her flees to the kitchen calling her "the Angel of Death", DeFarge enters and reminds Sophia that people hated the place only because they felt abandoned by their children, this could mean Sophia is only telling tales to stop the girls from trying to send her back.

However in the Golden Palace, after finding out that Sophia has checked into it, Dorothy reacts in fear when Blanche and Rose tells the stories she did suggesting that Dorothy knew that the place was a horrible place when they call her up she remarks on what the code meant. However since Dorothy has been overreacting throughout the scene it could be that she believes Sophia's lies in her fears.

Shady Pines is one of three Nursing Homes in the series, the other 2 are Cypress Grove in "Older and Wiser" where Sophia is babysat after recover from flu, then in "Sophia's Choice" we are shown Sunny Pastures which is as Sophia said is the bottom of the barrel.
While the residents of Shady Pines are hard to sort out from Sophia's friends the two we can confirm as important that do appear are Ida Perkins in "Brother, Can You Spare That Jacket" and Lillian in "Sophia's Choice", both end up leaving Shady Pines for negative reasons.
When The Golden Palace was cancelled, Estelle Getty appearing one episode of Empty Nest as Sophia living in Sandy Pines which suggests that she is now living there for good.
Community content is available under
CC-BY-SA
unless otherwise noted.