Rue McClanahan (born February 21, 1934 - died June 3, 2010) was an American actress born in Healdton, Oklahoma. McClanahan was a frequent television performer and Broadway star during the 1960s. After a role in one episode of All in the Family in 1971, producer Norman Lear cast McClanahan as Vivian Harmon in Maude (1972-78) alongside her future The Golden Girls castmate Bea Arthur.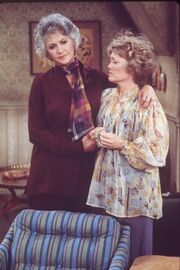 Rue McClanahan also co-starred with another future Golden Girl in the series Mama's Family. McClanahan's character Aunt Fran was a fixture of the first two seasons of the show, starting in 1982, though the character was killed off after the show was cancelled by NBC in 1984 and subsequently renewed in syndication. Betty White played Ellen Jackson, Fran's niece, on the first three seasons of the series.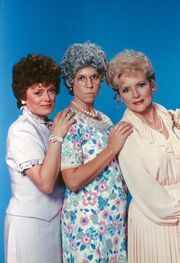 McClanahan is best known for her role as the saucy, sharp southern belle, Blanche Devereaux, in The Golden Girls which began in 1985. She once again worked with Bea Arthur and Betty White, as well as Estelle Getty. All four of the women won Emmy awards for their roles in the series, Rue in 1987. After Bea Arthur left the show after seven seasons, McClanahan, White and Getty returned for a brief spin-off in The Golden Palace (1992).
Rue McClanahan continued to work regularly, primarily in television, with guest roles on series such as Touched by an Angel, King of the Hill and Law & Order. Her final role as a series regular was in Sordid Lives (2008) on the Logo network, as Peggy Ingram, the older sister of Sissy Hickey and mother of Latrelle, LaVonda and Earl "Brother Boy".
Her autobiography, My First Five Husbands ... and the Ones Who Got Away, was published in 2007. McClanahan also spent her time joining and helping organizations against cancer, AIDS, and cruelty against animals. She died on June 3, 2010, after a stroke.
Awards and nominations for The Golden Girls

[

]
Emmy Award Nominations:
Outstanding Lead Actress in a Comedy Series (1986)
Outstanding Lead Actress in a Comedy Series (1987) (Won)
Outstanding Lead Actress in a Comedy Series (1988)
Outstanding Lead Actress in a Comedy Series (1989)
Golden Globe Nominations:
Best Performance by an Actress in a TV-Series – Comedy/Musical (1986)
Best Performance by an Actress in a TV-Series – Comedy/Musical (1987)
Best Performance by an Actress in a TV-Series – Comedy/Musical (1988)
Links
[
]