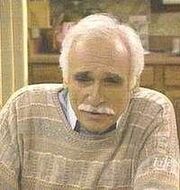 Miles Webber (born Nicholas Carbone in Chicago) was Rose's boyfriend who first appeared in Season 5, Episode 6, "Dancing in the Dark." He appeared in 14 episodes. 
They first meet at ballroom dancing and get along really well. He is a college professor, and Rose is self-conscious about her intelligence once she finds out and starts to avoid him. They reunite on the dance floor and he assures her that her sweetness and openness makes him enjoy being with her. We later find out that he is in fact not a college professor at all. He was placed in witness protection program after being the accountant of a crime boss. The crime boss cheese head was later found dead. so miles revealed that he in fact is not miles and asks rose to come back to Chicago with him. It is later revealed that cheese head faked his death and so miles must go back into hiding. He asked rose to come with him. but after he tells her she can never see her kids or her friends again. She refuses
We meet his daughter, Caroline, who tells Rose to leave Miles because her mother hasn't been gone long enough for him to have grieved properly.
He was portrayed by Harold Gould.
Trivia
[
]
Gould also portrayed Arnie Peterson in the episode "Rose the Prude".
In the episode "Twice in a Lifetime", Rose has to choose between Miles, or her old boyfriend from St Olaf, Buzz.