Jurassic World: Dominion Dominates Fandom Wikis - The Loop
Play Sound
DOROTHEA "DOROTHY" PETRILLO-ZBORNAK-HOLLINGSWORTH aka DOROTHY ZBORNAK
[
]
"Shady Pines, Ma!"
— Dorothy's favorite threat quote against her mother when her mother tries to act brashly

Written By: Jessica Aleksandra
Edited By: Avalon Cupid and Niki Poplin
Dorothea "Dorothy" Petrillo-Zbornak-Hollingsworth (née/maiden name Petrillo) portrayed by the late Beatrice Arthur (formerly Bernice Frankel, born May 13, 1922 – passed away on April 25, 2009) is one of the four main, fictional characters on the 1985-1992 NBC situation-comedy/sit-com, The Golden Girls, and its spin-off, The Golden Palace.
She appeared in 8 seasons and a total of 182 episodes - The Golden Girls (total of 180 episodes) and The Golden Palace (only appeared in 2 out of 24 episodes).
In the 1,000th issue of Entertainment Weekly, the character of Dorothy Zbornak-Hollingsworth was selected as the 'Grandma' for "The Perfect TV Family".
In flashback sequences in various episodes, a much younger Dorothy is played by actress, Lynnie Greene.
Synopsis
[
]
Dorothy's character tends to be a strong, witty, sarcastic, sometimes intimidating, and arguably, the most grounded out of the four girls in the house.
Dorothy's Biography
[
]
Family Life and Her Earlier Years
[
]
Dorothy Zbornak (Dorothy Petrillo was her maiden name) was born into an Italian-American family on July 31st, 1931 in Brooklyn, New York, right atop a pinochle table at McSoley's Bar (as stated so by Sophia in Season 3, Episode 5, Nothing To Fear But Fear Itself', (that aired nationally on October 24th, 1987). Her Italian immigrant parents are Sophia Petrillo and Salvadore "Sal" Petrillo. Dorothy's astrology sign, as she states in Season 4, Episode 7, Stan Takes a Wife', (aired nationally on January 7th, 1989), is a Leo.
Dorothy had two younger siblings: a younger brother, Phillip "Phil" Petrillo, who was a blatant free-loader and spent a good deal of his time with an interest in cross-dressing. Although not much is said or known about Phil. Unfortunately, Phil passed away in the TV series due to sustaining a heart attack at around age 55 some time around December 1990, while cross-dressing in female clothing at a store (Phil's funeral on the TV series was held in Season 6, Episode 12, 'Ebbtide's Revenge', (that aired nationally on December 15th, 1990). Throughout the TV series, the audience never actually meets Phil.
Dorothy also had a younger sister, Gloria Petrillo-Harker, who married into money, moved with her wealthy husband to California, and with whom Dorothy became estranged. Throughout the TV series, the audience meets Gloria a handful of times.
Nonetheless, throughout the TV series, Dorothy mentioned she and her younger brother, Phil, remained relatively close and maintained affection for one another well into their adulthood. They kept in touch possibly through phone calls. On the other hand, Dorothy, and her younger sister, Gloria, are the opposite. Gloria resented Dorothy, often believing Dorothy was the favorite child. Dorothy believed Gloria was judgmental. Through a brief while, Dorothy and Gloria grew apart over the years and became estranged.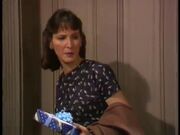 Growing up, Dorothy was quite the 'bookworm' and an over-achiever in high school, according to Season 6, Episode 20, 'Even Grandmas Get the Blues' (aired nationally March 2nd, 1991), Sophia revealed that Dorothy's IQ stands well around 173, which is massively impressive and would rank Dorothy as possessing a genius-level intellect. Soon enough, however, Sophia acted a tad brashly and that IQ turned out to be a lie...
Dorothy's nickname is 'Pussycat' as often called by her mother, Sophia:
Sophia: "You know why I call you pussycat, Pussycat?"

Dorothy: "Why, Ma? Because you only gave me yarn for Christmas? Because you fed me once and I hung around? Because you used to put me out at night?"

Sophia: "Because I love pussycats, and I love you."
In Season 5, Episode 13, 'Mary Has a Little Lamb', (that aired nationally on January 6th, 1990), Dorothy had another nickname during her childhood by the other kids who called her 'Moose.'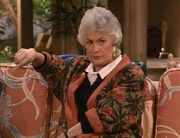 During Dorothy's younger years, she suffered from quite extensively low self-esteem. She had a previous boyfriend who was emotionally-abusive towards her when she was younger in high school. She split with this boyfriend within a short while. Her trust towards men began to dwindle in comparison to most, average females within this stage of adolescence into early adulthood. Furthermore, another boy, John Noretti (played by Hal Linden in Season 6, Episode 22: "What a Difference a Date Makes") supposedly stood Dorothy up on the night of her high school prom, which lowered her self-esteem even further during the critical years of her adolescence. However, the complete lack of respect for himself and others (showing up dressed like a "hood"; mouthing off to Sophia), saw him being turned away from Dorothy completely that night by Sophia. Dorothy was under the impression that John never showed up. Well, he did. Sophia just never told Dorothy about this...
Dejected, Dorothy later accepted a date for the senior prom with, lo-and-behold, Mr. Stanley "Stan" Zbornak (played by Herb Edelman) because Dorothy 'felt as if she could not do any better.' However, little to her anticipation, she did. Dorothy became pregnant during this time. Well, Dorothy had too much to drink that senior prom night, evidently. Dorothy became pregnant during a one-night stand in a Chevy with Stanley at a drive-in movie that senior prom night. It was... well, unplanned and unexpected. At the time, Stan mentioned he was drafted into the military and was going to be sent to South Korea to fight in the war. Learning this, Dorothy feared she may be a single mother with Stan's child should Stan die in South Korea. She felt obligated to Stan being pregnant with his possible son or daughter. However, soon enough, Dorothy's father learns that Dorothy is pregnant and demands Dorothy to marry Stan as soon as possible.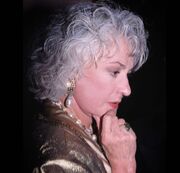 The two of Dorothy and Stan drop out of high school just shy to their graduation, which resulted in a 'shotgun wedding' that occurred some time in May 1944. This was mentioned briefly in Season 3, Episode 2, 'One for the Money', (that aired nationally on September 26th, 1987). Yet, due to the scriptwriter's many contradictions and inconsistencies throughout the TV series, it is mentioned in Season 5, Episode 18, 'An Illegitimate Concern', (that aired nationally on February 12th, 1990), the marriage was held on June 1st, 1949.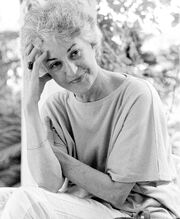 Written By: Jessica Aleksandra
Edited By: Avalon Cupid and Niki Poplin
Dorothy's Children
[
]
Nonetheless, the marriage produced two children: Kate Zbornak-Griffiths (played by Lisa Jane Persky initially and then played by Deena Freeman) and Michael Zbornak (played by Scott Jacoby).
(Michael's age varied significantly, depending on the episode. Kate was the eldest child, and she appeared only twice throughout the entire TV series. In one episode, Kate flees her marriage after her husband cheats on her with her best friend, only to reconcile with him in the end. On the other hand, Michael married the lead singer in a band he played in, named Lorraine, and it was revealed that Lorraine was later pregnant. However, the child of Michael and Lorraine was not mentioned in a subsequent episode or any further episodes.)
Relocating to Miami
[
]
Dorothy then decides to complete her high school GED following Dorothy's and Stan's marriage as well as the births of the two children, Michael and Kate. She then enrolls and begins her college journey (that is not mentioned as to which college/university Dorothy attended). However, she majored in American History.
At some point during Stan and Dorothy's marriage (within the TV series, some time between 1946-1984), Stan and Dorothy relocate and move to Miami. In Season 1, Episode 11, 'The Return of Dorothy's Ex' (that aired nationally on November 30th, 1985), Stan mentions how they bought property together when honeymooned in Miami. Yet, after all they have been through, despite having two children of their own, the two split divorce after 38 years due to Stan's infidelity with a younger woman. Stan was attracted to a younger woman, by the name of Katherine O'Connor, who was an airlines stewardess on one of Stan's business trips. Stan had a one-night stand with this Katherine during one of his business trips in Maui, Hawaii. Well, the rest was history. Stan just got up and left Dorothy without a word and never returned to her subsequent this horrific incident. It was learned to Dorothy through a divorce lawyer who came to her to bring this horrid news. Stan did not have the decency to even inform Dorothy. He just ran off with this Katherine. Through the divorce lawyer, Dorothy filed a divorce lawsuit against Stan. Within due time, the two had their divorce officially.
Dorothy: "Rose, he left me 38 years later for a stewardess that he met on a business trip to Hawaii. It was her first flight. They said, 'On arrival, give the passengers a lei.' She got confused. He got lucky, and they now live on Maui."
She went on to teach part-time at the school for the blind for a time.
She also then learned French, and became a high school substitute teacher for the subjects of American History and English. Teaching is very much Dorothy's strive, mission, and passion.
Written By: Jessica Aleksandra
Edited By: Avalon Cupid and Niki Poplin
Tidbits
[
]
As depicted in Season 4, Episode 24, 'Foreign Exchange' (aired nationally on May 6th, 1989), Dorothy wondered whether she is the true, biological daughter of the Petrillos because of a random and unexpected surprise-visit from a couple of Dominic Bosco and Philomena Bosco who claimed that the hospital may have switched babies at birth. The Boscos believe their daughter, Gina, may not be their biological daughter. But, Dorothy is. At a hospital, one can imagine that amidst the chaos of the maternity ward and healthcare professionals working past their means, two babies could be switched at birth. When Dominic and Philomena Bosco visit Miami and find the home address where Dorothy may be residing, they come bearing such troubling news. They believe their daughter, Gina, might not be related to them by blood – but, Dorothy is. As both Gina and Dorothy believe everything they worked through their lives up till this point in time may have been living a lie, they decide to do a DNA test. Considering this episode aired on May 6th, 1989, this sort of subject was sensitive during the late 80s. Truly, the producers and scriptwriters were well ahead of their time and super progressive on these sensitive topics. Sophia begins to cry, terrified that she may have lived her whole life wondering if Dorothy was truly her blood-related daughter. The DNA test pends. The very deep fear of Sophia, Dorothy, Gloria, The Boscos, Blanche, and Rose all rest on the results of this DNA test. However, the results are released. It is true: Dorothy is the biological daughter of Sophia. Everyone embraces one another at the relieving results.
In Season 3, Episode 25, 'Mother's Day' (aired nationally on May 7th, 1988), Sophia's mother, Eleanor Grisanti, (who is also played by Beatrice Arthur), implied that Dorothy and Sophia are indeed related biologically, and which also makes Bea Arthur the only main cast member to play two different roles in the series.
Lastly and a tad strangely, Dorothy becomes a direct aunt of Blanche Devereaux. (Remember, Dorothy is about 10 years Blanche's senior in the TV series). Dorothy becomes married to her second husband, Lucas Hollingsworth - at the finale of the TV series in Season 7, Episode 179+180, 'One Flew Over the Cuckoo's Nest', (that aired nationally on the final day of the TV series, May 9th, 1992), who is the youngest brother of Blanche's father, Curtis "Big Daddy" Hollingsworth.
Written By: Jessica Aleksandra
Edited By: Avalon Cupid and Niki Poplin
Dorothy's Career and Odd Jobs
[
]
For the most part, Dorothy worked as a high school substitute teacher, specifically in American History (which was her college major) as well as English. She also taught part-time for an evening-school course for adults wishing to complete their high school equivalency/GED (depicted in Season 4, Episode 1, 'Yes, We Have No Havanas', (that aired nationally on October 8th, 1988), which included Rose Nylund to attend the class so Rose could also complete her GED (we will get to this later in Rose Nylund's character description). It is learned Dorothy quit the evening-school as she found out none of the adult students really wanted to learn except for Rose.
Dorothy also had some summer part-time jobs, included tutoring. She used to tutor for young children within the community. Dorothy also enjoyed working alongside with Blanche Devereaux at the museum (which caused Blanche some jealousy after Dorothy appeared to have become the museum manager's favorite). She also did some acting at the local theater and even did a few attempted gigs of stand-up comedy. For a brief time, both Rose and Dorothy attempted to coach a children's football team.
Written By: Jessica Aleksandra
Edited By: Avalon Cupid and Niki Poplin
Dorothy's Characteristics
[
]
Dorothy often was mocked by her two housemates, Rose and Blanche, as manly, strappy, tough, and a bit odd due to her tall stature of 5-feet, 10 inches as well as her deep voice (which is Beatrice Arthur's actual voice - don't get it twisted). She can also be highly sarcastic and blunt, saying it for what it is as well as being rude and unreasonable at times, especially towards her less-sharp housemate, Rose. Her mother, Sophia, has a sneaky tendency to 'borrow' money from Dorothy, with or without Dorothy's permission or awareness.
However, Dorothy is also in possession of many positive traits such as being a voice of reason to her housemates and her best friends, Rose and Blanche. Despite the ridicule, Dorothy regards the three other women to be family, comforting to them and often giving great and forward-thinking advice. She often acts as the 'bigger sister' in tough situations to straighten up Rose's and Blanche's small misfortunes and losses. Dorothy helps to ground Rose and Blanche during their difficulties, often calling out hypocrisy, cruelty, injustices, and such negative behaviors and acts from others against her best friends with her 'as-is' blunt remarks. Moreover, Dorothy also has quite some talents. In an episode in Season 7, Episode 18, 'Journey to the Center of Attention' (aired nationally on February 22nd, 1992), she is able to upstage Blanche at the latter's favorite bar, The Rusty Anchor, by singing and thus winning the admiration of Blanche's many suitors. At another point, remembering how funny Dorothy could be in high school, Dorothy attempts some stand-up comedy. In the end, Dorothy wins over her audience by poking fun at her own life and bringing such subjects up such as as menopause.
Dorothy is a relatively intelligent person. Ever since she was a little girl, her broad knowledge can result in her being rude, inconsiderate, blunt, and sometimes foolish. For instance, in Season 3, Episode 15, 'Dorothy's New Friend', (that aired nationally on January 16th, 1988), Dorothy befriended a local author and novelist named Barbara Thorndike, whose knowledge attracts Dorothy. However, Barbara went ahead and insulted Blanche and Rose condescendingly. Blinded by Barbara's well-versed knowledge, Dorothy ignored Blanche's and Rose's complaints and upsets. However, Barbara revealed she is willing to accept an elite club's rules of no Jewish customers. Finding this out, Dorothy snapped out of her entrancement of Barbara and realized prejudice was not to Dorothy's liking. Without blinking, Dorothy requests for Barbara to leave and never to return again. Dorothy barks the famous three words towards Barbara, "Go to hell."
In another instance, in Season 7, Episode 16, 'Questions and Answers', (that aired nationally on February 8th, 1992, there were try-outs for the popular game show, Jeopardy, Dorothy studied the general trivia quite hard. Nevertheless, Sophia warns Dorothy that she may be overdoing it. During the Jeopardy game, Dorothy has much confidence and does seemingly well within the handful of rounds. However, she does not advance to the next round. When Dorothy realized she would not be earning the prize money, and she studied all for nearly nothing, she breaks down and cries. Sophia comes to her rescue and reminds Dorothy that she can get over-confident, which is one of the biggest reasons as to why Dorothy did not have many birthday parties growing up... and also never went to birthday parties as a young child. Many times, her over-confidence and self-sabotaging mindset alienates herself from others.
In spite of her strengths, Dorothy has several phobias including hospitals and flying. She eventually managed to conquer both her fears with the help of her best friends, Rose and Blanche.
In keeping with the show's practice of raising social awareness, a two-part episode involved Dorothy suffering from extreme exhaustion, which was ultimately determined to be Chronic Fatigue Syndrome; Susan Harris, the show's creator and co-writer, also suffered from the then-unknown condition.
Dorothy was also shown to have a recurring gambling problem that eventually caused her to seek help through Gamblers Anonymous. She started smoking cigarettes again after quitting many years earlier, because of stress from her mother's remarriage in Season 4, Episode 6, 'Sophia's Wedding (Part 1)' that aired nationally on November 19th, 1988 . Presumably, Dorothy was able to kick the smoking habit! Since that episode, Dorothy was never seen with a cigarette again... (However, if only that were true in Beatrice Arthur's case. In reality, Beatrice continued smoking cigarettes till it led to her premature demise to lung cancer on April 25th of 2009).
Some of Dorothy's Quotes
[
]
"I finished, but I'm not coming out because this is the most quiet I've had in months." (towards Sophia, while Dorothy was fixing the sink)
"I taught a class today. The finest school in Dade County. Two girls had shaved heads and three boys had green hair." (First line)
"Oh, shut up, Rose." (Dorothy's exasperated, often used reply to one of Rose Nylund's stories or ideas.)
"Shady Pines, Ma." (Often used against her mother Sophia, when the latter gets on her nerves.)
"She does consider herself the Godfather; I'll just make her an offer she can't remember." (when Dorothy realized and explained to Blanche how she would get Sophia to her and Stan's second re-marriage with the airlines stewardess, Katherine O'Connor-Zbornak)
Dorothy also appeared in only two episodes of The Golden Girls short-lived sequel and successor, The Golden Palace.

Written By: Jessica Aleksandra
Edited By: Avalon Cupid and Niki Poplin
References
[
]
"The Golden Girls (Season 1-7)". tvtango.com. Retrieved May 26, 2020.
"Golden Girls' Memories". Entertainment Weekly.
"The Golden Girls". Archive of American Television. Retrieved May 26, 2020.
"The Golden Girls - 25th Anniversary Complete Collection". TV Shows on DVD. TV Guide Online. Retrieved May 26, 2020
"The Golden Girls - Season 1-7". TV Shows on DVD. TV Guide Online. Retrieved May 26, 2020.
IMDB. (2020). https://www.imdb.com/
Colucci, Jim. Golden Girls Forever: An Unauthorized Look Behind the Lanai. Harper Collins Publishers Design, 2016.
Farrell, Kelly; O'Connor, Anne Marie; Powell, Joanna. The Golden Girls: Special Collector's Edition, The Enduring Legacy of the Show that Won Our Hearts with Laughter. 2018.
Gallery
[
]